After all job of building the prototype and making the sketch work, it's the time to build the circuit. It's not the objective to explain in detail how to make printed circuit boards, but only a superficial explanation about it, besides, of course, to present the project changes to make it works out of Arduino board.
Schematic and board layout
Board designs are made with specialized softwares. There are several available, including for free. In this project I prefered to use the
CadSoft Eagle
given it's components library size available on the web, an interesting tip is also download the
SparkFun components library
that appear to have all components that they sell, a wide variety, and can save a big drawing time. The schematic is a circuit logical view that is a prerequisite for drawing the tracks and validate it later.
Basically the requirements to run an Arduino project on an independent printed circuit board is a 5v power supply, a 16Mhz crystal oscillator, and, of course, link the microcontroller pins with all digital and analog ports of Arduino board. The diagram bellow is popular on web and explain how we need to draw the schematic to work as the prototype.
The new components that are needed to be added to prototype to work in a printed circuit board are:
1 28 pin solder tail dip sockets (for Atmega microcontroller);
1 power Jack connector for PCB;
1 LM78L05 regulator;
1 1uf capacitor;
1 10uf capacitor;
1 16MHz crystal oscillator;
With the new components and microcontroller pinout, we've got the following schematic:
Through schematic design it's possible to validate the tracks to build from circuit layout. After putting all devices on board layout, in order to facilitate their connections, it's necessary to manually write the tracks layout, because auto-routing functions usually do not do a good job. See how the layout was designed for this project: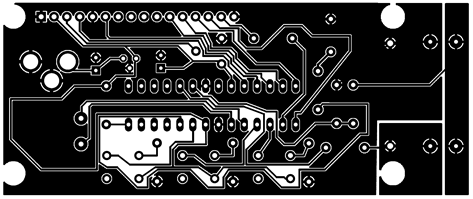 Building the printed circuit board
It's not the objective of this article to teach anyone to etch copper boards, for that there are several articles out there. But I'd like to make some important considerations.
The method used for this project was the heat transfer with clothes iron. I tried before to transfer the printer toner directly as explained in some articles out there. But as each printer has it's own characteristics is almost impossible determine a procedure that works in most cases, not to mention the various irons types and board sizes to be transferred. It's also notable the copper deterioration of the printed parts, which suggests that the transferred toner does not properly protect the copper during corrosion.
The solution found that worked better in this method was through
Press-n-Peel
paper. The blue polyester film is transferred together with the toner creating an optimal etching protection, as well as it's is removed much more easily when compared to using only toner in couche paper (or magazine paper). But make no mistake, it's not a trivial process and may also cause some waste with unsuccessful attempts. It's even recommended very careful handling with it because the blue pellicle is very delicated and any bend or scratching can remove it easily (I learned the hard way) and destroy the paper (that is not cheap).
After some damage trying to use the paper, I got a first good transfer (note that some adjustments were still needed, even minimal, with a pen):
Then, after etching:
And finally, cut and drilled:
To cut and drill the board was used a
Dremel 300 rotary tool attached to Workstation
. We used a 1mm drill for all holes, but note that it was not very suitable for all components and opened so much some islands eliminating almost all their contact, which complicates a lot the soldering process. In such cases it's important to use an appropriate bundle of CNC drills.
Component soldering
The component positioning at board can be properly viewed in Eagle sources. The soldered parts were arranged as following:
In order to save the board from rust it was all tinned. This procedure makes the placement of components a little complicate, because it pulls the tin, but it is important to keep the board if it has no solder mask. As you can see, the tinned visual is not the best:
Finally I arranged some cables with special connectors to help in the new device usage:
Conclusion
In closing, a short demonstration of the device working: